In today's ultra-competitive housing market, a number of startup companies are addressing new realities in home buying with a strategy based on an age-old truth – Cash is king.
For first-time home buyers. For existing homeowners. The need for cash is the tie that binds.
Programs initiated by such companies as Flyhomes, Knock, Ribbon,  Orchard, Divvy and others are providing buyers a competitive boost — many through cash-offer plans — in a market where sellers are routinely entertaining multiple offers.
While many companies focus on existing homeowners who've built equity and have a home to sell, others such as Divvy, cater to first-time homebuyers who may need time to save for a down payment or establish their credit.
The National Association of Realtors estimated 23% of homes sold in July 2021, sold for cash. That's a 7% increase over the same month a year ago.
"These cash-offer programs may fill a niche in highly competitive real estate markets," said Gregg Wasilko, President of the Wasilko Group and a top earning agent with Howard Hanna in Cleveland. "Eliminating financing and appraisal contingencies matters to sellers, and would certainly put those buyers in a preferred position when multiple offers are being considered."
How It Works
Some companies front-qualify buyers the cash to buy their new home outright while others purchase the home and sell it to the buyer for the same price once their loan is secured.
The overarching benefit is to allow buyers to purchase their new home before selling their existing home. A few even offer help with repairs and staging of the existing residence.
For instance, Knock's Home Swap Program, which replaced an earlier initiative, offers homeowners more than just the convenience of buying their new home before selling their old one. It offers a 30-day closing and a $25,000 pre-pay to get the old house ready for sale. The company started in four markets in 2015 and is now in 65 markets,
Real-estate innovator Flyhomes raised $150 million in Series C financing this year to further accelerate its growth in some of America's hottest real estate markets. Launched in 2016, Flyhomes has helped homeowners close on $2.6 billion worth of homes through its Cash Offer and Buy Before You Sell programs.
These startups are meeting needs in a real estate market that has put stress on traditional home purchase methods. And they are betting that even when the frenzied housing market cools, there will always be high demand for the convenience they offer and the competitive bidding they promote.
"Any time a buyer can make a non-contingent offer, it's going to be a stronger bid," said Knock spokesperson Janice McDill.
Startups Offering Programs for First-Time Home Buyers
What if you're trying to get into the housing market as a first-time buyer?
Just this week, Knock announced Knock GO (Guaranteed Offer), a program designed specifically for first-time home buyers and others who don't have a home to sell.
The program combines a cash-backed competitively priced conventional mortgage with a closing guarantee and appraisal protection. Knock GO carries the company's guarantee that it will fund the loan in the event it isn't 100% clear to close in 30 days.
Divvy appeals even more directly to first-time home buyers who might otherwise be left on the outside looking in. It promotes itself as "a great fit" if:
you've had trouble saving for a down payment.
you need time to get your finances in order.
your credit rating is not where it needs to be.
Divvy clients must fill out an application and get approved for a budget. A minimum credit rating is required.
Once a customer chooses a qualified residence, Divvy purchases the home. The buyers/renters basically agree to a three-year lease, during which they can purchase the home off Divvy at a preset price.
Divvy says most of its customers become eligible to take over mortgages within three years but they can also walk away with their saved down payment, minus a fee, before the three-year period expires.
Ribbon also offers a program for first-time home buyers while primarily focusing on existing homeowners.
It helps the qualified first-time home buyer waive financing and appraisal contingencies. At the same time, it empowers existing homeowners to make winning cash bids, allowing them to move into their new home before their existing home sells and thus avoid the inconvenience of scheduling showings.
Ribbon operates in North Carolina, South Carolina, Georgia, Texas and Florida. But the company recently raised $150 million with the ambitious goal of servicing half the U.S. markets by 2023.
One benefit is that as a tech firm, Ribbon can underwrite a mortgage at light speed compared to traditional avenues.
In communities where houses might go on the market and off it in a day's time, speed is essential for buyers and sellers alike. Experts see the startups filling an obvious need.
"It has really taken off this year," Mike DelPrete, scholar-in-residence on real estate technology at the University of Colorado at Boulder, told the Wall Street Journal. "In a seller's market—high demand, low supply—you need to empower buyers."
Even if the housing market slows nationally, which is inevitable at some point, these companies are betting their services will have become indispensable and too convenient to do without.
As long as homeowners are juggling the sale of their own home and the purchase of a new one, certain needs won't be dependent on the market remaining robust.
And one thing will always be true for existing homeowners as well as first-time homebuyers: Cash in hand never hurts.
Updated: October 13, 2021
HUD-Approved Online Homebuyer Education Course
HomeTrek is an easy-to-use HUD-approved online homebuyer education course. Our course will help you learn budgeting, saving, how to improve your credit, understand home much home you can afford.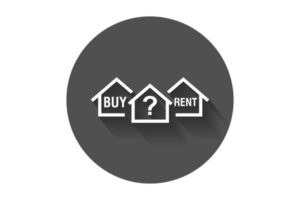 Rent-to-own is exactly what it sounds like – you rent a home with a contract that allows you to eventually buy it. There are benefits and disadvantages to rent-to-own, and whether it's a good idea ...