"It's tough to overstate the importance of credit scores to a mortgage loan application — they're one of the top things lenders consider," Tabitha Mazzara, director of operations at mortgage lender MBANC, said.
A credit score shows lenders how well you manage credit. The more of a credit risk you are (the lower your score), the higher interest rate a lender will charge.
FHA loans are the largest mortgage assistance program in the country, and a borrower can get one with a credit score as low as 500, as opposed to the 620 minimum (higher at some lenders) usually needed for a traditional mortgage. The interest rate charged, however, is up to lenders. The average FHA interest rate fluctuates above and below the traditional average, depending on the housing market.
No matter what type of loan, credit score makes a difference. Borrowers with a credit score of 740 or higher were paying less than 2% interest at one point in 2021, and in 2022 pay around 3%, depending on the lender. A credit score between 640 and 679 is around 4% or higher. Traditional borrowers, regardless of credit score, paid an average 3.72% interest at the end of January 2022, while FHA borrowers paid 3.69%.
"Ideally, for the best long-term outcome, you would wait to get your credit and debts in order first, and make yourself attractive to lenders, then look into loan options," Mazzara said. "The better your credit, the more options you will have, and that includes access to lower interest rate loans."
Low Credit Score Mortgage Assistance
Most traditional mortgages are backed by Freddie Mac (Federal Home Loan Mortgage Corp.) and Fannie Mae (Federal National Mortgage Association). The federal guarantee programs help lenders keep costs low, but also set credit scores at a minimum of 620, and lenders generally look for a score of at least 640.
Government programs that are more flexible with credit scores as a way to make homeownership available to lower-income buyers include:
FHA (Federal Housing Administration) mortgages. Has a minimum 580 credit score and a 3.5% down payment; a 500-579 credit square may qualify, but 10% down is required.
VA Loans. The Department of Veterans Affairs program doesn't have a credit score requirement for qualifying veterans, but the lender may require one.
Homepossible, a Freddie Mac mortgage assistance program for low-income buyers in underserved communities, doesn't require a credit history or credit score for those who qualify.
Mortgage assistance programs are flexible with credit scores, but they have other requirements including income, debt-to-income ratio, the size or price of house, and more.
The Cost of a Low Credit Score
The cost of buying a home is not just the sticker price. The cost is what you pay monthly, including interest, over the life of the mortgage.
The monthly payment on a 30-year mortgage of $200,000 at 3% interest would be $843, without taxes and insurance added in. Those two areas would add about $150 a month, depending on where you live and other factors. At 4% interest, the payment is $954 before interest and taxes. Over the life of the mortgage, the cost with interest alone is $303,601 at 3% and $344,016 at 4%.
Jeanne Kelly, a credit expert and founder of The Kelly Group Coaching, said imagine buying a house in new subdivision where all the houses, and their prices, are identical. "Now, what if you paid the same price for your home as your neighbor — but because your score was lower, you might end up paying thousands of dollars more for that same purchase-price home."
Improving Your Credit Score
No matter what type of mortgage you apply for, increasing your credit score will save you money, Mazzara and Kelly said.
Kelly said, "Not only does your credit score cost you on the interest rate, but you could end up paying more for insurance if your score is low."
Mazarra said that the majority of mortgage denials happen because of derogatory marks for late payments. "They show that you're a borrower who's having trouble paying their bills, which is the exact opposite of what we need you to do."
Having a low income doesn't mean you can't have a high credit score. The best things you can do to improve your credit score are:
Pay your bills on time. Missed and late payments are the number one factor that has a negative effect on a credit score. Consistent on-time payments, will improve it.
Reduce credit utilization. The less credit used compared to what's available, the higher your score. Try not to use more than 30% (or less) of available credit.
Pay down debt. "Lenders want to see a good debt-to-income ratio (which is how much you earn versus how much you owe)," Mazarra said.
Review your credit report. Until April 2022, credit reports from credit reporting agencies Experian, Transunion and Equifax can be reviewed weekly for free (traditionally, it's once a year.) Request errors that affect your credit score be removed. If you had a temporary issue that affected your credit, like an illness or divorce, add a note for creditors explaining it. "Checking your credit reports and score is very important," Kelly said. "You want to try to have the healthiest credit score you can."
Credit Counseling and Debt Management
Mazarra said that, ultimately, the decision to apply for a mortgage goes beyond credit score.
"You should also consider what your own financial reality is," she said. "If you owe a lot of money and maybe have been falling behind on some payments, ask yourself: would adding a monthly mortgage payment on top of that make things better, or worse? Especially one with a higher interest rate?"
Once you improve your credit score and pay down debt, lenders will be happy to offer you better loan terms, she said.
"Lenders want to loan you money, we really do," Mazarra added. "But we don't want to take a lot of risks while doing it. If you can prove you're not a risk and you have a history of paying back money you've borrowed, it's all good."
If you need help handling debt, you may want to speak to a counselor at a nonprofit credit counseling agency, like InCharge Debt Solutions. Counselors review your finances, help you create a budget, and point you toward resources that assist in eliminating debt. They do it for free, and they are required by law to give you advice that's in your best interest.
A counselor may suggest a debt management plan that eliminates debt in 3-5 years. You make a fixed monthly payment to the credit counseling agency, which pays your creditors after working with them to lower interest rates. There is a $40 fee, which is added to the monthly payment.
A counselor may also suggest nonprofit credit card forgiveness, a 36-month program for those who qualify. You pay 50%-60% of your balances, with the rest forgiven.
There isn't a credit score requirement for credit counseling or debt management. In the long run, reducing debt and making on-time payments will improve your credit score, so you can qualify for a mortgage that you can afford.
HUD-Approved Online Homebuyer Education Course
HomeTrek is an easy-to-use HUD-approved online homebuyer education course. Our course will help you learn budgeting, saving, how to improve your credit, understand home much home you can afford.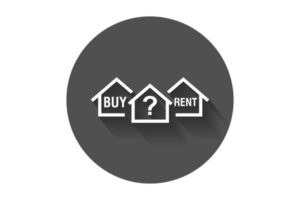 Rent-to-own is exactly what it sounds like – you rent a home with a contract that allows you to eventually buy it. There are benefits and disadvantages to rent-to-own, and whether it's a good idea ...